Exciting news! FBM® is thrilled to announce the return of Scratch and Boom this year! Following the success of Scratch N' Boom's debut last year, FBM® is back with bigger prizes. Starting this August, players will once again have the chance to win prizes on either Tuesday, Wednesday, or Thursday through our exhilarating Scratch N' Boom scratch card. Don't miss out on this fantastic opportunity with the new FBM® Scratch and Boom!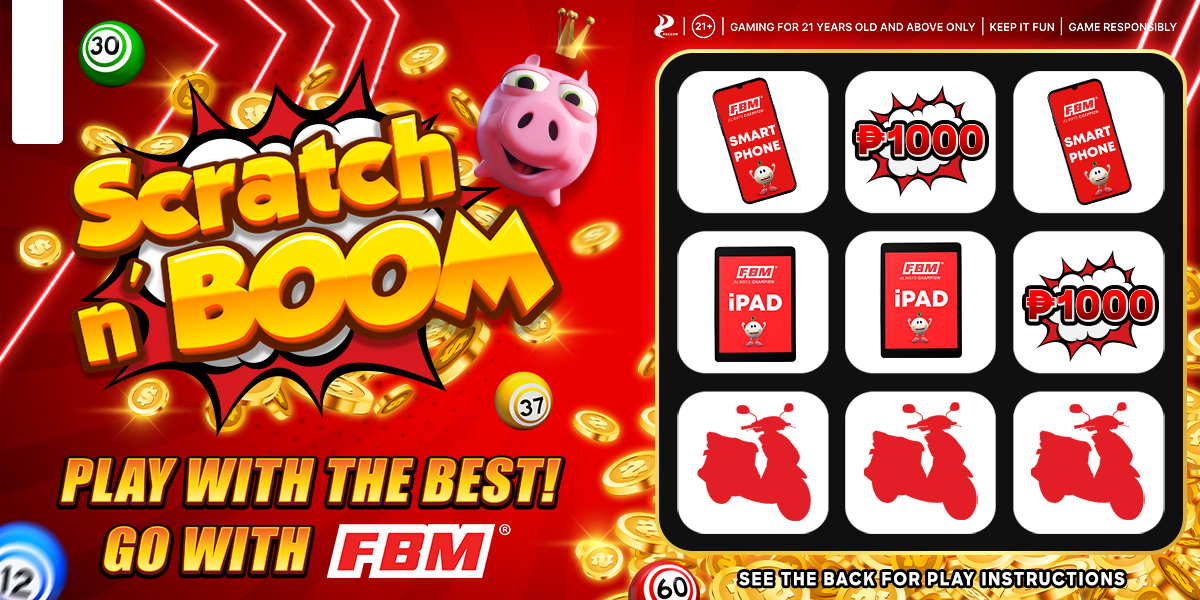 HOW TO WIN?
The thrilling scratch card game is back at FBM®'s participating bingo hall sites, with even more amazing prizes for an unforgettable experience. Here's how to join:
1. Players need to actively play on an FBM® casino cabinet with the Green meter to receive a scratch card. Once the Green meter is activated, players can get a scratch card.
2. Players must match 3 same logos in any order to claim their winnings.
3. Site staff/FBM® representatives will entertain and assist winners in claiming their rewards.
Disclaimer: Distribution of Scratch Cards during Champion's Hour from 2:00 PM to 6:00 PM, until supply lasts.
WHEN AND WHERE IS IT HAPPENING?
Players in participating bingo hall venues will have the opportunity to participate in FBM® Scratch and Boom on either Tuesday, Wednesday, or Thursday this August. Check out the list of participating bingo sites below:
WHICH PRIZES ARE INVOLVED?
FBM® will distribute the scratch cards exclusively to players who meet the requirements. These scratch cards will offer players the chance to win a wide range of exciting prizes:
P1000
P500
P300
P200
P150
1 Smartphone
1 iPad
1 Brand New Motorcycle
DO YOU HAVE ANY DOUBTS?
Please contact [email protected] or +63 0919 082 3662 if you have queries about the FBM® Scratch N' Boom in the Philippines. Have fun and enjoy the big prizes that FBM® has for you!
Keep it fun | Game Responsibly | Gaming is allowed for 21 years old and above only.